[upcoming] WikidataCon, Poster Presentation, Berlin, DE – 'Provenance for Internet Art: Using the W3C PROV Data Model'
[2019] iPRES Conference, Paper Presentation, Amsterdam, NL – 'Provenance for Internet Art: Using the W3C PROV Data Model' [event details][slides]
2018 Wikibase Summit, NYC – 'Linked Open Data & Arts Organisations: Documenting an Evolving Concept of Provenance', presentation plus facilitation of UX design workshop sessions [event details] [slides]
2018 Digital Living Research Commons, Aarhus, Denmark – 'Performativity and Provenance in the Net Art Archive: the Interface and Infrastructure of Rhizome's Artbase', talk given as part of the QTC (Questions, Thoughts and Contentions) weekly series at DLRC, based in Aarhus University's Department of Digital Design & Information Studies [event details]
2018 Besides the Screen, London – 'Presentation and Context in the Net Art Archive: the Interface and Infrastructure of Rhizome's Artbase' [conference website] [slides]
2018 MAPS (Media Art Preservation Workshop), Budapest – 'Collaborative Documentation and Archiving of Digital Art', workshop facilitated together with Dušan Barok and Julie Boschat Thorez [workshop description]
2018 National Forum on Ethics and Archiving the Web, NYC – 'Curation and Power', panel discussion [conference website] [video documentation]
2018 Ladies That UX London, monthly meetup – 'UX in Cultural Heritage' [event description]
2018 Curating Machines, Vol. 2, London – 'Version Control and Archive Freedom', workshop with Annet Dekker [event description]
2018 Transmediale, Berlin – 'Webrecorder: Webarchiving for All!', workshop [event description] [slides]
2018 London Art Fair, London – 'Digital Dilemmas, Pt.2: The tale of the collector', panel discussion [programme website]
2017 Reading International, Reading, UK – 'Archiving Digital Social Memory' [event description]
2017 iPRES Conference, Poster Presentation, Kyoto, Japan – 'Presentation and contextualisation in the online archive of internet art' [conference website]
2017 EVA Conference, Research Workshop, London – 'Presentation and contextualisation in the online archive of internet art' [conference website]
2017 IIPC / RESAW conference, London – 'Containerized browsers and archive augmentation with Webrecorder', with Rhizome [conference website]
2017 Google Cultural Institute, London – 'Web archiving with Webrecorder.io', special event with Rhizome
2015 Face Forward Typography Conference, Dublin – 'The form of the book in alternative publishing practices', with Inland Editions [slides]
2015 PrintRoom, Rotterdam – 'Library tales', with Inland Editions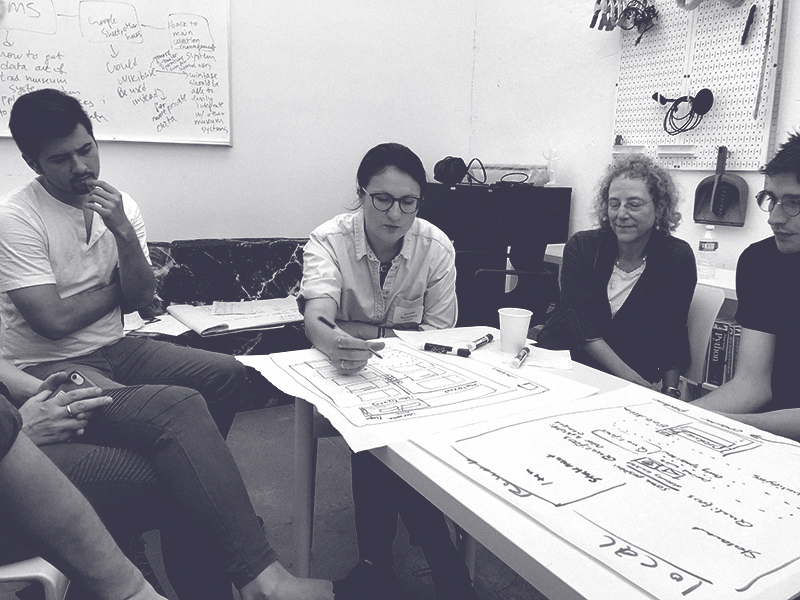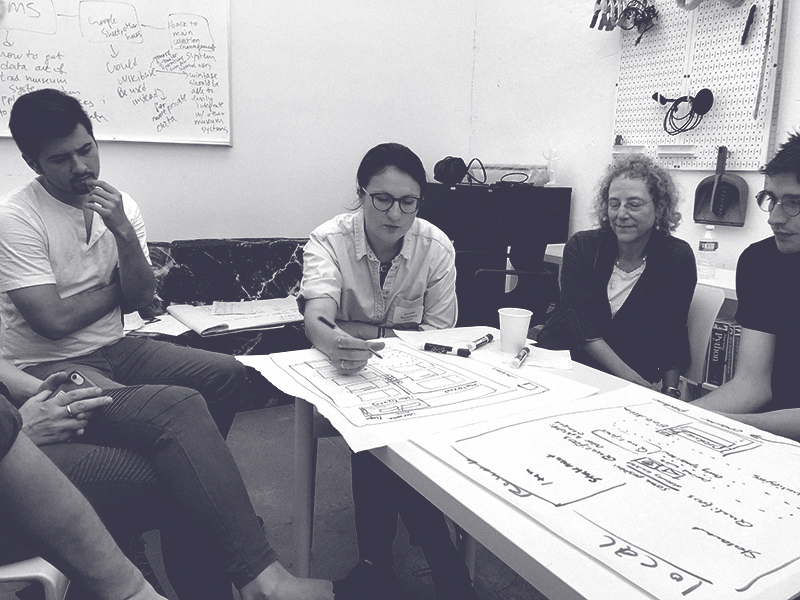 At Wikibase Summit, NYC, 2018.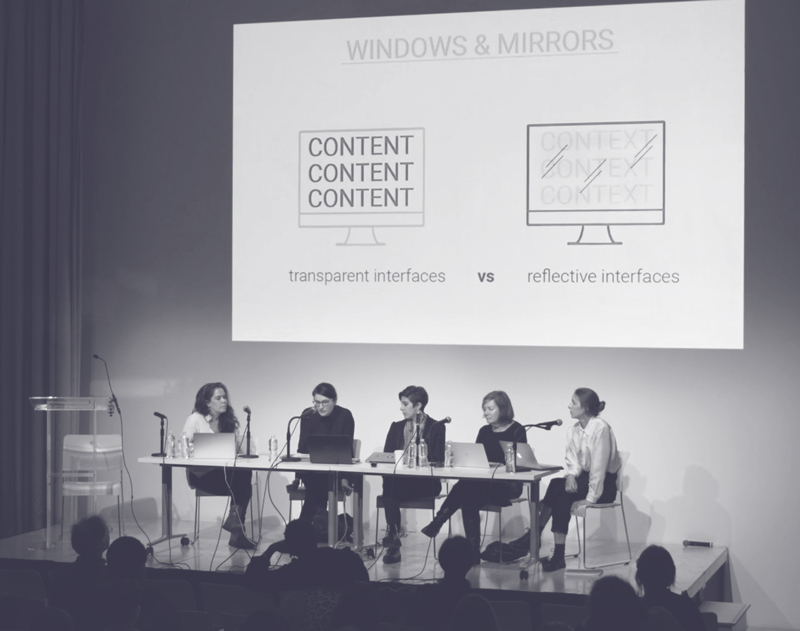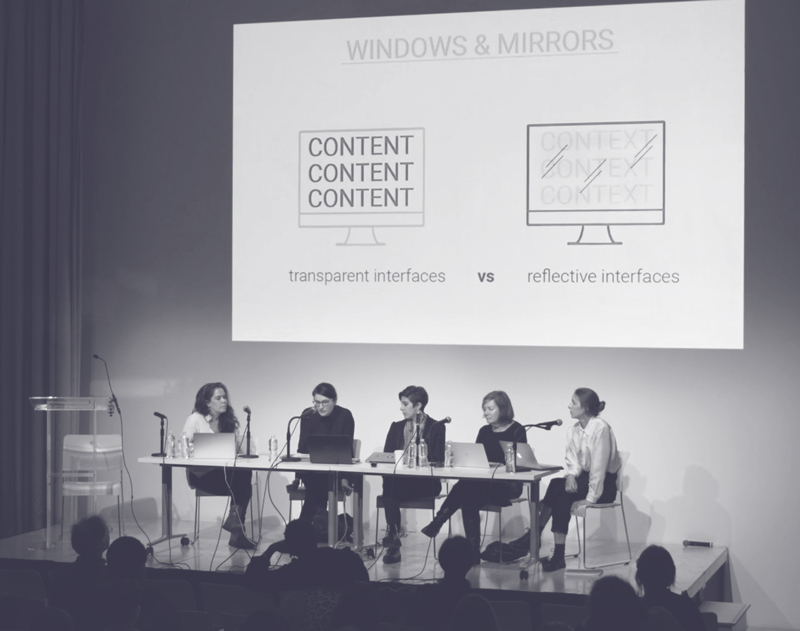 At Ethics & Archiving the Web in NYC, 2018.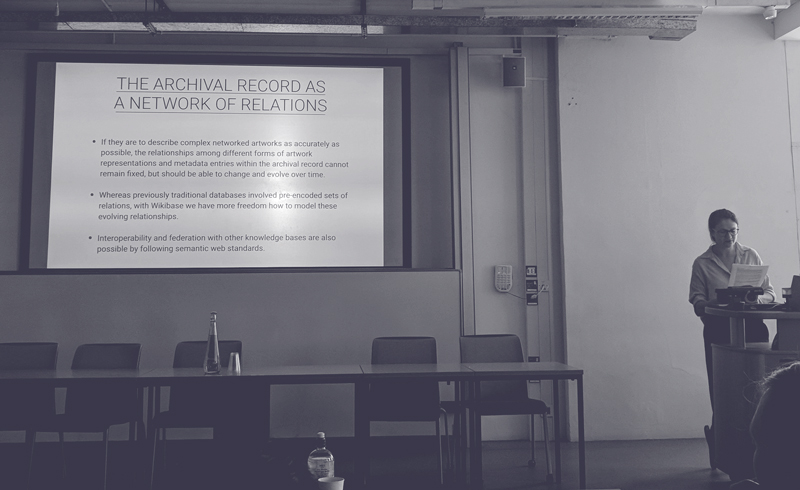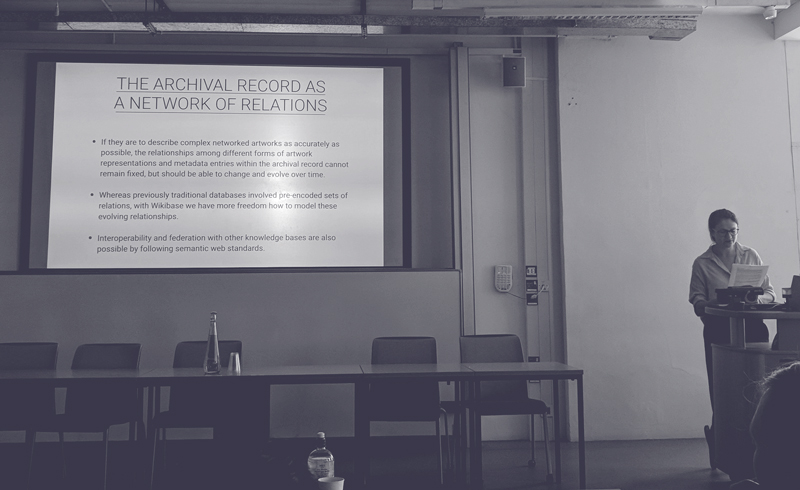 At Besides the Screen in London, 2018.
At a Reading International event, 2017.
Teaching + visiting lectures
2019 Kingston School of Art, The Design School – The Form of the Book in Hybrid Publishing Practices, talk [slides] & workshop [slides]
2019 University of Reading – Publishing Platforms, spring term module [slides]
2018 University of Aarhus, Denmark – 'Archiving the Web: Interface Design and User Interaction in the Online Archive of Digital Art', workshop co-facilitated with Magda Tyzlik-Carver, Assistant Professor in the department of Digital Design and Information Studies.
2018 University of Siegen, Germany – '"Windows & Mirrors": Theory and Practice in the Interface Design of Online Archives', part of Locating Media Lecture Series [event description]
2018 University of Reading – Publishing Platforms, spring term module
2017 University of Reading – Publishing Platforms, spring term module on the MA Book Design course, Department of Typgraphy & Graphic Communication
2016 University of the West of England – One-day workshop on independent publishing practices, with Inland Editions [slides]
2016 University of Reading – 'Design and production practices for media-rich digital publications', visiting lecture
2016 University of Reading – 'Design and production practices for media-rich digital publications', visiting lecture
2015 University of Reading – 'Creating digital publications with integrated visual and textual content and designing for in-browser reading experiences', visiting lecture
2014 American University in Bulgaria – 'The Illustration Revolution: Radical shifts in the state of the book and publishing trade introduced during the 19th century', visiting lecture
2014 American University in Bulgaria – 'Design in the social context: Information graphics and visual communications for NGOs', visiting lecture
2014 American University in Bulgaria – 'Creating interactive digital publications with Adobe InDesign Digital Publishing Suite', workshop
2014 University of Reading – 'Creating digital publications with integrated visual and textual content', visiting lecture
2018 'Many Faces of Wikibase: Rhizome's Archive of Born-digital Art and Digital Preservation', interview with Dragan Espenschied, Lyndsey Moulds and Lozana Rossenova, conducted by Sandra Fauconnier for the Wikimedia Foundation's Blog [read here]
2018 'Review of Fiona Banner's "Heart of Darkness"', book review for caa.reviews [read here]
2017 'Digital Social Memory and the Case of the Online Archive of Internet Art', article for online magazine "New Criticals" [read here]
2017 'Digital Social Memory', interactive narrative for Rhizome's website [read here]
2017 'User Experience in the Online Archive of Internet Art', IIPC blog [read here]
2015 'Bookspace: Collected Essays on Libraries', Inland Editions, London [publisher website]
2012 'Typography with a view', independently published journal with Maria Inês Cruz at the Department of Typography and Graphic Communication, University of Reading [project blog]